MAIN STORY
Local Judge Held Captive, Fugitive 'Librarian' Eludes Authority Again!
The lower road has cars, the upper road has bicycles, and in the sky – drone traffic is congested. Waves of sound parting for metal usually howl from the stark sky every ninety seconds or so. A plastic stereo-buzz of remote aircraft zips through lower streams with persistent and increasing frequency, speeding into and between the tall buildings that keep ground-dwellers in the chill of shade. The din of satellite congestion scraping space must be even more grating to anyone around to hear it.
But most of this noise is not heard from the rural Observatory, nor seen. From the Observatory, looking West toward the work-weary City, one sees only the glare of hot light ricocheting back and forth between the valley of gunmetal solar panels and the surface of the Pacific ocean infinitely. Light glares down on the rusted junkyard of obsolete machines that has laid claim in recent years to the stretch of mountainous desert between the Observatory and here. about a mile down the only road that wound that mountain.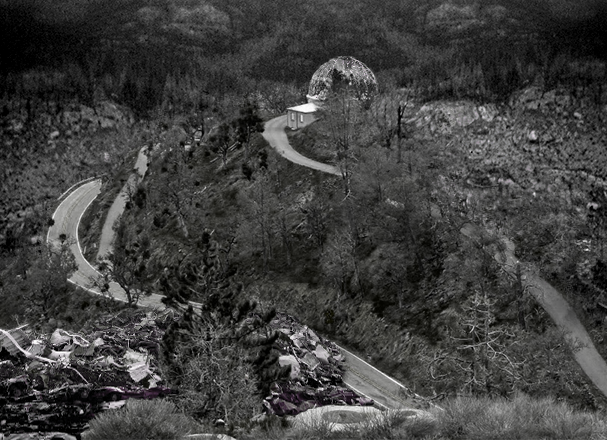 The old Observatory fire fire doode do. Inspect source
Inside the hull of the observatory, lawmen found....a menagerie of strange and exotic plants, some as tall as a ----. Special agricultural experts were called to the scene to examine the oddities: "These are potentially new species. …..carnivorous and predatory. They are a likely danger to the public, and are without doubt, illegal.
Last night's storm caused a fire...
Ascher served two years in state prison for inciting a riot in inside a public library, before hatching a daring escape last spring. Baffled authorities had all but abandoned the case before discovering Ascher's hideout this morning.
Benneko is in custody and is being questioned.
More on this story as it develops...
Shortly after dawn, District Court Judge Janet Hollis stumbled into Andersen's general market, wet and barefoot in a […] gown. Judge Hollis claims Benneko abducted her from a corporate charity gala she was attending in the Valley last night. Galagoers remarked on her absence but had assumed no mischief. At approximately 9pm, Benneko, posing as a waiter, assaulted Hollis in the ladies' room and stuffed the Honorable Hollis into the trunk of his old manual-model auto, where she took a steep and bumpy ride up the road that winds around the old Observatory.
Quite a scene inside old observatory. Plants.....Ascher had apparently boarded off the ceiling of the telescope room from the dome, in order to collect a private reserve of rainwater for the poisonous garden inside  – an offense in itself! Ms. Ascher will certainly have much to answer for, when or if the law ever finds her.
Firemen stated that lightning from last night's storm had likely downed a power line
It was like she just disappeared'
She had endured a grueling night of torture at the hands of a low-level radical named Fred Benneko and the infamous criminal, Alex Ascher. Standard readers may better remember Ascher as .